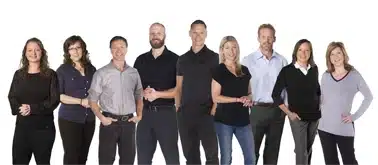 WE TREAT THE WHOLE BODY SO YOU CAN HAVE A WHOLE LIFE
Arise Chiropractic and Wellness
CHIROPRACTOR Vernon BC
Welcome to Arise Chiropractic Wellness Clinic in Vernon, BC. At Arise Chiropractic, our goal is to get results, creating a wow experience for our patients. I've been a chiropractor in Vernon for a long time, and I take pride in all of the doctors and therapists who contribute to our award-winning clinic—Vernon's Wellness Headquarters.
Dr. Elliot Lysyk provides care with clinical excellence in Vernon. Our team is here to help you.
Don't take our word for it, hear what our patients have had to say about the care we provide.
Arise Chiropractic and Wellness
YOUR WELLNESS HEADQUARTERS
I decided to become a chiropractor in Vernon because it seemed like the perfect marriage between helping families optimize their health while raising a family of my own in an active and outdoor community. My goal is to create a team of the best chiropractors, therapists, and staff in Vernon so that you and your family can enjoy a trusted chiropractic clinic for lifetime wellness.
You receive a comprehensive initial consultation

Examination is performed, and diagnostic/lab test are ordered

Health care team meets to develop your customized plan

Exam and test results are reviewed, and plan recommended

A natural and conservative approach is taken

You enjoy a healthy, high-quality life
Our Office
From Vernon, follow Kalamalka Lake Road off Hwy 6 to the Alpine Centre, just past the Vernon Golf Course. We are located next to Uncle Dave's Pizza. If coming from Coldstream, follow Kalamalka Lake Road to the Alpine Centre. Arise Chiropractic is right between Vernon and Coldstream, convenient for everyone.
What Sets us apart
Arise Chiropractic has been named as a finalist for the Vernon Chamber of Commerce's Customer Service Excellence Award. We have also been voted Best Chiropractic Clinic for 7 years in a row in Okanagan Life Magazine, and we continue to build on this strong reputation of clinical excellence. Our doctors create a strong rapport with patients by obtaining a detailed history and performing a focused examination including orthopedic and neurological testing. We also have digital on-site x-ray to gain an even deeper understanding of each patient's case. We may also use MyoVision technology to locate areas of muscle inflammation, and we even have Spinal Decompression Therapy for more advanced spinal conditions. Our secret is that we communicate our findings really well and create custom programs to ensure high patient outcomes.
Common Conditions We Treat
We help with low-back pain, neck pain, mid-back pain, numbness and tingling, sciatica, sprains and strains, carpal tunnel, headaches, chronic pain, migraines, whiplash and motor vehicle accident injuries, sports injuries, injuries associated with childhood, pre-and-post-natal care, arthritis pain, spinal disc injuries, disc compression, disc herniations…just to name a few.
Some people think that chiropractors "crack" joints, which can sound unsavory. At our clinic, this is never the goal, although it can sometimes happen incidentally with certain types of chiropractic adjustments. If this bothers you, we have plenty of other techniques to use, and these "cracks" can be avoided entirely without compromising results. If you enjoy the sounds, we can honor that, too, but it's important to know that adjustments should never hurt if they are done properly, although you may experience some tenderness in the hours that follow as your body adjusts to the correction of poor postural habits.
Adjustments can be modified in many ways to ensure your comfort. Our chiropractors have helped everyone from pregnant moms and newborns to the fragile and elderly. Sometimes we only use the pressure of a coin. If you are in agony when you first visit, we'll do everything in our power to create a relaxing and comfortable experience, and our goal is always to help you feel better as fast as possible. 
Well, that can sound a bit intimidating! It's important to know that how often you visit a chiropractor is always your choice, because we believe in empowering you to make your own healthcare decisions. Chiropractic is a system of healthcare focused on enhancing your alignment and making sure that your nerves are carrying all of the vital healing energy required to live a healthy life. Just like how going to the dentist to achieve great oral hygiene is important, so, too, is seeing your chiropractor, who can help you maintain great alignment and avoid future breakdown. But, whether you seek regular adjustments for optimal health, occasional adjustments for relief when you are hurt, or intermittent check-ups when you feel a tune-up is necessary—it's always your choice.
Go ahead and give our professional team a call, make an appointment, and please arrive 15 minutes before your scheduled time to fill out some easy paperwork. Our doctors run on time. In fact, we have a pathological aversion to being late at Arise Chiropractic. We look forward to meeting and helping you!